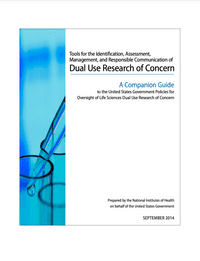 Download
Language: English
Tools for the Identification, Assessment, Management, and Responsible Communication of Dual Use Research of Concern: A Companion Guide to the United States Government Policies for Oversight of Life Sciences Dual Use Research of Concern
[Dual Use Research of Concern]
United States National Institutes of Health (US NIH)
This guide contains a set of tools designed for institutions, principal investigators, and institutional review entities implementing the United State's review procedures and oversight requirements for life sciences research (i.e. Policy for Institutional DURC Oversight). These procedures apply to any life sciences research that is being funded by the U.S. government.
SUMMARY
This guide describes how to implement and comply with relevant US government (USG) policy on the oversight of Dual Use Research of Concern (DURC). The guide focuses specifically on two policies, The USG Policy for Institutional Oversight of Life Sciences Dual Use Research of Concern (Policy for Institutional DURC Oversight) and the USG Policy for Oversight of Life Sciences Dual Use Research of Concern (March 2012 DURC Policy). These policies apply to the oversight of any DURC that is either funded by the US government or occurs at an institution that receives funding from the US government. The guide is specifically intended for researchers and institutions who are subject to those policies, but the recommendations on dual use oversight may still be useful for members of the life sciences community that are not subject to the US DURC policies.
This guide was prepared by the United States National Institutes of Health (US NIH). The US NIH is the US government's biomedical and public health research agency. The NIH operates within the US Department of Health and Human Services (US HHS), the branch of the US federal government charged with safeguarding the health of Americans. In addition to the companion guide, HHS has developed and published several other documents, including case studies, frequently asked questions, training slides, a brochure, and an educational poster, to help researchers and institutions comply with DURC oversight policies. Some of those resources were added following a 2015 Stakeholder Workshop. The companion guide has not been updated since September 2014. As of September 2021, all of the resources, including the companion guide, are only available in English.