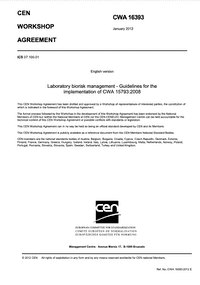 Download
Languages: English, French, German
CEN Workshop Agreement 16393: Laboratory Biorisk Management Standard- Guidelines for Implementation of CWA 15793
[CWA 16393]
European Committee for Standardization (CEN)
CWA 16393 is a guidance document for the implementation of CWA 15793 (a voluntary standard for biorisk management). CWA 16393 provides additional explanations about the requirements and the underlying principles outlined in CWA 15793, as well as general guidance about its implementation .
SUMMARY
The  European Committee for Standardization (CEN)  Workshop Agreement 16393 (CWA 16393): Laboratory Biorisk Management Standard- Guidelines for Implementation of CWA 15793: Laboratory Biorisk Management Standard is a companion guide that focuses on how to carry out the plan-do-check-act cycle outlined in CWA 15793. CWA 16393 was published in 2011, when CWA 15793 was being updated, and the document is structured as implementation guidance notes surrounding the CWA 155793 text. These Guidelines do not add any new requirements, and are meant to give context to existing requirements. The document is available in English, French and German. 
CEN is a public standards organization that aims to foster the economy, global trading, environment, and public welfare of the European continent. CEN has hosted 84 workshops as of September 2021. These workshops address emerging or rapidly evolving technologies that require quickly developed specifications and research. The main outcome of a CEN workshop is a CEN Workshop Agreement, a voluntary agreement with international applicability. CEN members are the national standards bodies of Austria, Belgium, Bulgaria, Cyprus, Czech Republic, Denmark, Estonia, Finland, France, Germany, Greece, Hungary, Iceland, Ireland, Italy, Latvia, Lithuania, Luxembourg, Malta, Netherlands, Norway, Poland, Portugal, Romania, Slovakia, Slovenia, Spain, Sweden, Switzerland and United Kingdom.