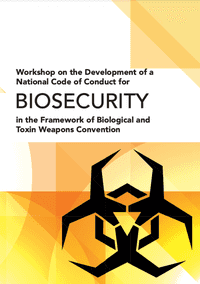 Download
Language: English
Workshop on The Development of a National Code of Conduct for Biosecurity in the Framework of Biological Toxin Weapons Convention
[Code of Conduct for Biosecurity, Workshop Handbook]
Science & Technology Research Institute for Defence (STRIDE)
This report describes the outcome of a workshop on Malaysia's National Code of Conduct for Biosecurity that was written to be compliant with the BWC. The workshop was convened with experts from Malaysia, Indonesia, the USA, the Netherlands, and the U.K, and draft legislation was presented and discussed at this meeting.
SUMMARY
On June 3-4, 2021, international experts from science research, industry, and academia convened in Malacca, Malaysia, for a Workshop on the Development of a National Code of Conduct for Biosecurity in the Framework of the Biological Weapons Convention. The workshop was hosted by Malaysia Ministry of Defence's Science and Technology Research Institute for Defence (STRIDE) and Academy of Sciences Malaysia (ASM). The United States Defence Threat Reduction Agency (DTRA) and the Cooperative Biological Engagement Programme (CBEP) helped organize the event. 
This workshop provided a forum for presenting and discussing Malaysia's draft of the National Code of Conduct for Biosecurity. A National Code of Conduct for Biosecurity can promote transparency around issues of misuse, enforce already existing standards, provide a set of ideals for practitioners, and define appropriate actions within broader professional and legal frameworks in response to concerns. Adopting a National Code of Conduct would also help Malaysia meet its nonproliferation obligation under the Biological and Toxin Weapons Convention (BTWC). More specifically, the workshop aimed to promote an awareness of dual use concerns, define professional and ethical behaviors that could be encouraged through a Code of Conduct, and help ensure a sense of ownership for Malaysia's draft National Code of Conduct for Biosecurity amongst the life science community. The subsequent report, included here, provides an overview of every presentation at the workshop, breakout sessions, a draft code of conduct for biosecurity in the framework of the BWC, an outline of the draft's main elements, and biographies of the main speakers. It is currently only available in English.