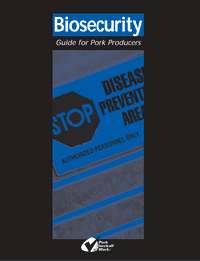 Download
Language: English
Biosecurity Guide for Pork Producers
[Biosecurity Guide for Pork Producers]
United States Department of Agriculture (USDA)
These guidelines help pork producers ensure that infectious diseases don't spread on their farms, between their farm and other farms and between animals and humans. The guide includes checklists that rate current biosecurity practices on a scale from "unacceptable" to "excellent".
SUMMARY
The Biosecurity Guide for Pork Producers aims to help pork producers evaluate their farms' biosecurity strengths and weaknesses through a guided checklist of biosecurity practices. Each question in the checklist ranks practices on a 4-point scale, unacceptable, questionable, adequate, and excellent, and provides information about why certain practices can be harmful. The checklist covers isolation biosecurity and indirect spread, mainly focused on making sure new additions to a flock do not introduce foriegn pathogens and that flocks do not spread any pathogens to other farms or to humans. 
The guide was published in 2002 by the Animal and Plant Health Inspection Service (APHIS) at the United States Department of Agriculture. APHIS also publishes guidelines for poultry (see Defend the Flock entry in this library), cattle, horses and other domesticated and wild animals. The guide was developed in collaboration with the National Pork Board and the American Association of Swine Veterinarians. The guide is available in English.