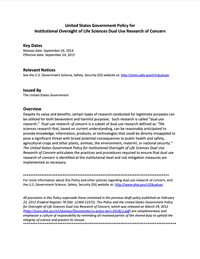 Download
Language: English
United States Government Policy for Institutional Oversight of Life Sciences Dual Use Research of Concern
[US Policy for Institutional Oversight of DURCs]
United States Government
This policy addresses institutional policies, practices, and procedures for ensuring dual use research of concern are properly identified and any risks are appropriately mitigated. The policy delineates the roles and responsibilities of funding agencies, research institutions, and life scientists in enacting the new requirements.
SUMMARY
The United States Government (USG) Policy for Institutional Oversight of Life Sciences Dual Use Research of Concern defines the practices and procedures required by the US government to ensure comprehensive identification and oversight of dual use research of concern (DURC) at the institutional level. The policy defines DURCE as any life sciences research that can be reasonably anticipated to result in knowledge, information, products, or technology that could be misapplied to pose a significant threat to public health and safety, agricultural crops, and other plants, animals, the environment, or national security. This policy is just one of several regulations that the United States Government has published relevant to dual use research of concern. This policy is a companion to a 2012 policy, Policy for Oversight of Life Sciences Dual Use Research of Concern _(March 2012 DURC Policy). _That 2012 policy established a USG process for regular review of USG-funded or -conducted research with certain high-consequence pathogens or toxins. Together the two policies establish a comprehensive DURC oversight system that involves both the US government, private research funders, and research institutions.
This policy was enacted by the United States government. The United States government is composed of a legislative, judicial, and executive branch. The executive branch contains several cabinet-level executive branch departments, including the United States Department of Human Services (HHS). HHS publishes policies on dual use research of concern and other issues relevant to biosecurity. Policies enacted by the US government apply to all 50 states, even though state's also have their own legislative, judicial, and executive bodies. More information about this policy and other policies related to DURC can be found on the US Government Science Safety and Security website (link included as documentation). This document may be useful for both institutions seeking to comply with relevant US research policy, and legislative leaders interested in establishing a national DURC oversight system. Currently, the policies are only available in English and no updates to the legislation are anticipated.