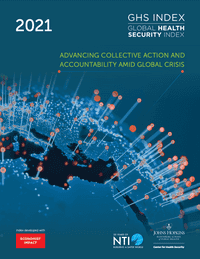 Download
Language: English
Global Health Security (GHS) Index
[GHS Index]
Johns Hopkins Center for Health Security
The GHS index aims to identify preparedness and capacity gaps in the health security systems of nations who are States Parties to the IHR. This tool aims to increase the political will and funding necessary to fill these gaps at both the international and national levels.
SUMMARY
The Global Health Security (GHS) Index is a comprehensive assessment of the health security capabilities of the 195 states that are party to the International Health Regulations (IHR). To create the GHS index, the project team collaborated with an international panel of panel of 18 experts from 12 countries to develop 171 questions that assess a country's capability to prevent and mitigate epidemics. The questions are organized across six six core categories of preparedness: prevention; detection and reporting; rapid response; health system; compliance with international norms; and risk environment. The assessment relies on data sources and information that are publicly available (rather than gathered through expert interviews or internal knowledge), such as laws, regulations, policy documents, and government websites. Index scores for each country are displayed on the GHSIndex.org website via the map, country page, and downloadable data model. The full report, to include findings, recommendations, and country rankings, are identified within the full 2021 report.
The GHS Index was developed by the Nuclear Threat Initiative (NTI) and the Johns Hopkins Center for Health Security with research support from the Economist Impact. NTI is a non-profit, non-partisan organization founded in 2001. The Johns Hopkins Center for Health Security at the Bloomberg School of Public Health works to protect people's health from epidemics and disasters and ensure that communities are resilient to major challenges. The Economist Impact combines the rigor of a think tank with the creativity of a media brand to engage a globally influential audience. The services offered by Economist Impact previously existed within The Economist Group as separate entities, including EIU Thought Leadership, EIU Public Policy, Economist Events, EBrandConnect, and SignalNoise. This index may be most useful for funders and officials seeking to identify and fill preparedness and capacity gaps at the international and national levels. The index is only available in English and is updated once every two and a half years.