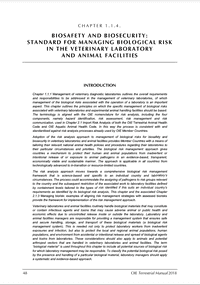 Languages: English, Spanish, French
Manual of Diagnostic Tests and Vaccines for Terrestrial Animals
[Terrestrial Manual]
World Organization for Animal Health (WOAH)
This manual contains standards for the management of veterinary laboratories, including chapters on the appropriate testing and vaccination against specific diseases. The diseases included have the potential for very serious and rapid spread, irrespective of national borders.
SUMMARY
The World Organisation for Animal Health (OIE) Manual of Diagnostic Tests and Vaccines for Terrestrial Animals was created to prevent the spread of animal and zoonotic diseases by providing internationally agreed upon standards and methods for animal vaccinations and veterinary diagnostic laboratories. The manual covers infectious and parasitic diseases in mammals, birds and bees, and is divided into four parts: 1. General standards for management of diagnostics laboratories and vaccine production facilities, 2. Specific recommendations on validation of diagnostic tests and the manufacture of vaccines, 3. OIE listed diseases and other important diseases, 4. OIE Reference Centers at the time of publication.
The OIE Vaccine Manual is a companion volume to the OIE Terrestrial Animal Health Code, and has been foundational to the animal health field since its first publication in 1989. The Manual is updated approximately every 4 years and the 8th edition was published in 2018 in both English and Spanish. OIE was established in 1924, has 182 member countries and is a leading global authority on animal health. OIE receives its mandate from the World Trade Organization (WTO) Agreement on Sanitary and Phytosanitary Measures, and this manual helps safeguard world trade by maintaining animal vaccine and disease testing standards.