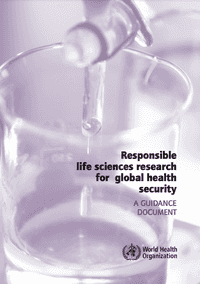 Download
Language: English
Responsible Life Sciences Research for Global Health Security
[Responsible Life Sciences Research]
World Health Organization (WHO)
The purpose of this guidance is to inform Member States about the risks posed by accidents or the potential deliberate misuse of life sciences research and to propose measures to minimize these risks. The guidance culminates in a self-assessment tool on biorisk management.
SUMMARY
The Responsible Life Sciences Research for Global Health Security tool has two parts: 1. A background document that gives context and guidance on risk in life science research for global health security, 2. A self-assessment questionnaire on biorisk management. It covers the risk of both accidents and deliberate misuse, and proposes measures to mitigate risk. The tool is specifically targeted at laboratory managers and research institutions that have a public health focus, and is written to be country agnostic, so that each lab can apply the guidance in a way that makes sense in their national context. The framework outlined in this resource has three pillars: 1. Research excellence, 2. Ethics, 3. Biosafety and laboratory biosecurity. The third pillar may be of most interest to the users of this library, and covers topics such as existing biorisk management structures, reinforcing public health capacity, and investing in workforce training.
This tool was published in 2010 by the World Health Organization department on Global Alert and Response in collaboration with global experts, and was funded by Alfred P. Sloan Foundation and the Ford Foundation. This tool comes out of a 2006 WHO working group, and a related WHO workshop, on responsible life science research, at which the need for more bio risk assessment mechanisms was identified. The resource is available in English.