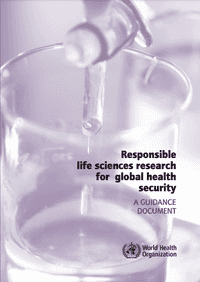 Download
Language: English
Responsible Life Sciences Research for Global Health Security: A Guidance Document
[Responsible Life Sciences Research for GHS]
World Health Organization (WHO)
This guidance informs nations about the risks posed by the accidental or deliberate misuse of life sciences research and proposes measures to minimize these risks. It seeks to provide support to WHO member states to assess healthy security strengths and weaknesses, identify priority areas for promoting responsible research practices, and to provide technical expertise and training.
SUMMARY
This guide proposes measures to prevent the deliberate misuse of life sciences research and to effectively harness life sciences research to public health. The authors propose that there are three essential pillars of biorisk management and public health: research excellence; ethics; and laboratory biosafety and biosecurity. The document also includes a self-assessment questionnaire to aid public health and life sciences practitioners in assessing how well the three pillars have been implemented within their own institution.
The WHO is the agency of the United Nations responsible for international public health. The agency has 194 member states. Its mission is to promote the right to health and well-being for all people, as stipulated in its 1948 constitution. The agency also leads and coordinates the international response to health emergencies. The 194 member states may propose health policy annually at the World Health Assembly (WHA), the governing body of the WHO. This guidance contributes to the implementation of World Health Assembly Resolution 55.16, which urged the World Health Organization (WHO) member states to prepare for the possibility of a deliberately caused disease outbreak and to strengthen public health surveillance and response activities to prevent any deliberate or accidental disease outbreaks. While this guide may be of interest to a large audience, the WHO intended for this document to primarily be used by researchers and laboratory managers. The self-assessment questionnaire may also be of use to health policymakers.