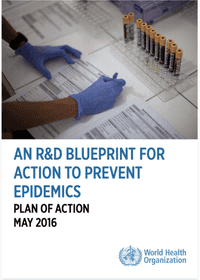 Download
Language: English
An R&D Blueprint for Action to Prevent Epidemics
[R&D Blueprint to Prevent Epidemics]
World Health Organization (WHO)
The R&D Blueprint encompasses the WHO's global strategy to strengthen emergency response during disease outbreaks. Outlining research and development targets, the document addresses emerging pathogens. Considering that epidemics pose large risks to global health, security, and economic prospects, the blueprint aims to improve preparedness.
SUMMARY
The R&D Blueprint represents the World Health Organization's (WHO) efforts for better research and development concerning epidemic preparedness. It is a global strategy and plan to strengthen emergency response by bringing medical technologies to populations and patients during disease outbreaks. The blueprint maps information already known, as well as gaps, surrounding research and development targeting emerging pathogens. Offering technical guidance, the blueprint is geared toward emerging pathogens capable of causing severe outbreaks in the future as well as those for which few or no medical countermeasures exist. The plan is based on four principles, 1. An inclusive process with a clear mandate and defined milestones 2. Building on the efforts of others in the community 3. A collaborative effort with affected countries at its core 4. Driven by scientific knowledge. This document was created before the 69th World Health Assembly to illustrate the main WHO directions for an effective R&D Preparedness strategy. Considering that infectious disease epidemics pose large risks to global health, security, and economic prospects, this blueprint aims to improve emergency preparedness. Through R&D funding and improved collaboration efforts, global changes and innovations to treat infectious diseases should lead to faster responses. 
The document provides R&D preparedness for priority pathogens with a focus on LMICs and is available for free online in English. The activities under this R&D Blueprint are also guided by the principles of the Global Strategy and Action Plan for Public Health, Innovation and Intellectual Property and of the Consultative Expert Working Group on R&D Coordination and Financing (CEWG). The World Health Organization (WHO) authored this blueprint considering its core responsibility in the area of "research and coordination of research." The WHO is the agency of the United Nations responsible for international public health. The agency has 194 member states. Its mission is to promote the right to health and well-being for all people, as stipulated in its 1948 constitution. The agency also leads and coordinates the international response to health emergencies. The 194 member states may propose health policy annually at the World Health Assembly (WHA), the governing body of the WHO.