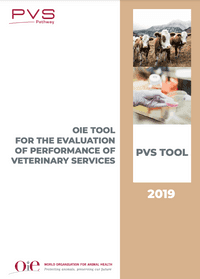 Languages: English, Spanish, French
Performance of Veterinary Services Pathway
[PVS Pathway]
World Organization for Animal Health (WOAH)
PVS Pathway is a voluntary evaluation of countries' veterinary service capacity. It exposes gaps in animal health systems that can then be prioritized for action by governments and funders.
SUMMARY
The Performance of Veterinary Services (PVS) Pathway is a national program that helps countries build and improve their veterinary service capacity. The PVS Pathway empowers countries by providing them with a comprehensive understanding of their strengths and weaknesses using a globally consistent methodology based on international standards that can reveal gaps, inefficiencies and opportunities for innovation. The PVS Pathway is a voluntary, collaborative process that is meant to provide a 5-10 year action plan for countries. The PVS Pathway has four stages: orientation, evaluation, planning and targeted support. These stages are outlined in the PVS toolkit, and are designed to be repeated by countries over time to track progress. 
The PVS Pathway has been continuously improved upon by the World Organization for Animal Health (OIE) since 2007. The PVS Pathway toolkit is in its seventh edition that was published in 2019. Over 140 countries have participated in the PVS Pathway process. The PVS Pathway evaluation is carried out by OIE certified experts. The OIE is an intergovernmental organization with 182 member countries. The organization is responsible for safeguarding and improving animal health worldwide. It is recognized as a reference organization by the World Trade Organization and maintains permanent relations with nearly 75 other international and regional organizations. The OIE champions a "One Health" approach to health security, which asserts that human and animal health are interdependent and that preventing diseases in animals is the most effective way to safeguard human health.