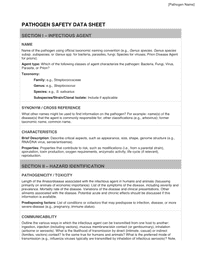 Languages: English, French
Pathogen Safety Data Sheets
[PSDSs]
Public Health Agency of Canada (PHAC)
PSDSs are technical documents that describe the hazardous properties of a human pathogen and provide recommendations for work involving these agents in a laboratory setting. These documents have been produced by PHAC as educational and information resources for laboratory personnel working with infectious substances.
SUMMARY
The Pathogen Safety Data Sheets (PSDS) are technical documents that outline the risks and necessary precautions needed to work with human pathogens in a laboratory setting. The Public Health Agency of Canada (PHAC) has published close to 200 PSDS for educational and informational use by laboratory personnel. In addition to the PSDS library, PHAC makes available a PSDS Template that allows users to build their own safety sheets for the pathogens they are working with in their unique setting. A PSDS has nine sections: 1. Infections Agent, 2. Hazard Identification, 3. Dissemination, 4. Stability and Viability, 5. First Aid and Medical, 6. Laboratory Hazards, 7. Exposure Controls and Personal Protection, 8. Handling and Storage, 9. Regulatory and Other Information. 
THe PSDS library is regularly updated with new hazards for pathogens, and new pathogens are added as they become more commonplace in laboratories. The library is available on the PHAC website and mobile app in English and French. PSDS is part of a larger suite of biosafety and biosecurity resources maintained by the Canadian Centre for Biosecurity in collaboration with the Canadian Food Inspection Agency, Health Canada and PHAC. The Centre has 4 offices that focus on biosecurity: 1. Office of Biosafety Programs and Planning (OBPP), 2. Office of Biosafety and Biocontainment Operations (OBBO) , 3. Office of Pathogen Security (OPS), 4. Office of Stakeholder Engagement and Regulatory Affairs (OSERA).