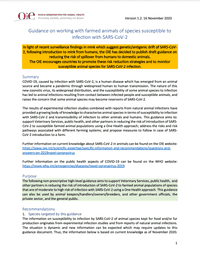 Download
Language: English
OIE Guidance on Working with Farmed Animals of Species Susceptible to Infection with SARS-CoV-2
[OIE SARS-Cov-2 Guidance]
World Organization for Animal Health (WOAH)
This guidance aims to support veterinary services, public health officials, and other partners in reducing the risk of SARS-CoV-2 infection in livestock. This guide can help animal keepers, government officials, private sector individuals, and the general public reduce the risk of spillover and farmed animal infection using a One Health approach.
SUMMARY
This document offers non-prescriptive, high-level guidance for preventing the introduction of SARS-CoV-2 in farmed animal populations.  OIE decided to publish the guidance following surveillance findings in farmed mink populations which suggested the genetic/antigenetic drift of SARS-CoV-2 following the introduction of the virus to mink from humans. The guidance includes a risk assessment of species farmed for food and/or fur, with a focus on the risk of human to animal SARS-CoV-2 transmission, animal to human SARS-CoV-2 transmission, and SARS-CoV-2 transmission between animals. OIE also emphasizes the importance of having a disease-specific and site-specific farm biosecurity plan. The guide sets out several best practices for farms to establish systems and practices for minimizing risks introduced by visitors, farmed animals, roaming animals, feed, waste, tools, and vehicles.
The OIE is an intergovernmental organization with 182 member countries. The organization is responsible for safeguarding and improving animal health worldwide. It is recognized as a reference organization by the World Trade Organization and maintains permanent relations with nearly 75 other international and regional organizations. The OIE champions a "One Health" approach to health security, which asserts that human and animal health are interdependent and preventing diseases in animals is the effective way to safeguard human health. This report reflects such an approach since it seeks to prevent the further spread of COVID-19 by preventing animals from becoming reservoirs of Sars-CoV-2 or new variants of the disease. It's aimed at animal keepers, government officials, the private sector, and the general public, with a specific focus on veterinary services and public health officials. As of September 2021, this guide is only available in English, but many of OIE's resources are available in French or Spanish as well.