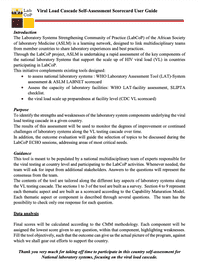 Download
Language: English
Viral Load Cascade Self-Assessment Scorecard
[HIV Viral Load Testing Scorecard]
African Society for Laboratory Medicine (ASLM) Laboratory Systems Strengthening Community of Practice (LabCoP)
LabCoP, a laboratory learning community run by ASLM, support a system of national labs running HIV viral load testing. They developed this assessment to score the strengths and weaknesses of the laboratories that make up the viral load testing cascade. The assessment comes with a user guide.
SUMMARY
The Viral Load Cascade Self-Assessment Scorecard is an assessment to score the strengths and weaknesses of national laboratories that do HIV viral load testing. This assessment was developed by the  Laboratory Systems Strengthening Community of Practice (LabCoP) of the African Society of laboratory Medicine (ASLM), a learning network, designed to link multidisciplinary teams from member countries to share laboratory experiences and best practices. Although the assessment is specific to HIV testing, it is a good example of capacity building and how to build regional specific guidance to support international guidance. 
LabCoP was launched in October 2017 and receives funding from the Bill and Melinda Gates Foundation. Over time, LabCoP has expanded its mandate from HIV testing to include COVID-19, waste management, monitoring, and evaluations. LabCoP provides a platform for fostering peer-to-peer exchange amongst laboratory personnel, clinicians, policy makers and communities, leveraging expertise across Africa and beyond. LabCoP is part of ASML, an independent, international, not-for-profit organisation founded in March 2011. ASML coordinates relevant stakeholders at the local, national, and international levels to improve local access to world-class diagnostic services. ASLM is the first pan-African society for laboratory professionals, endorsed by the African Union (AU) and supported by multiple African Ministers of Health.