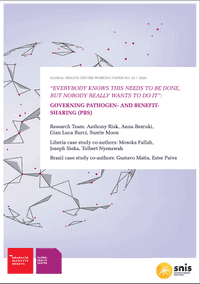 Download
Language: English
"Everybody knows this needs to be done, but nobody really wants to do it": governing pathogen- and benefit-sharing
[Governing PBS]
Global Health Centre Graduate Institute of International and Development Studies
This paper discusses issues with sharing pathogens across boarders, and sharing benefits from the subsequent research done on those pathogens, such as vaccines and other medical countermeasures.They find that the situation for pathogen sharing has become more unclear over time and make a few recommendations for how to move forward.
SUMMARY
An International Legal Framework for the Sharing of Pathogens: Issues and Challenges is a paper, authored by Professor Abbott at Florida State University, about the legal frameworks available to regulate pathogen sharing. Published in 2010 after the H1N1 outbreak, it has a special emphasis on sharing influenza samples. The paper argues that the regulations should be negotiated at the World Health Organization (WHO) due to the Public Health nature of the regulations, but recommends bringing in expertise from the Convention on Biological Diversity (CBD) and the World Trade Organization (WTO)  so that there does not end up being split regulations from all those organizations. 
This paper was included as part of the Governing Pandemics Initiative at the Global Health Centre of the Graduate Institute of International and Development Studies in Geneva. The initiative, which started in July 2021, curated an online repository of resources on six issue areas that are critical to improve in order to better prepare for and respond to potential pandemics. For each of the six areas, the initiatives offer key official documents, a selection of additional research and analysis, and regular updates on ongoing policy processes. The six areas are: 1. National, Regional and Global Preparedness, 2. Leadership, Monitoring and Accountability, 3. Countermeasure Innovation and Access, 4. International Health Regulations, 5. World Health Organization, and 6. Financing.