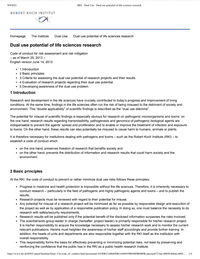 Languages: English, German
Dual Use Potential of Life Sciences Research: Code of Conduct for Risk Assessment and Risk Mitigation
[Dual Use Potential of Life Sciences Research]
Robert Koch Institute (RKI)
This code of conduct outlines institutional principles, criteria for assessing dual use potential, steps for evaluating dual use research, and methods for developing awareness of the dual use problem. Other institutions can use this document as a guide to establish their own dual use code of conduct.
SUMMARY
This resource is the Robert Koch Institute's (RKI's) Code of Conduct for assessing and mitigating the dual use potential of research conducted at the RKI. Dual use potential refers to the potential for certain life sciences research to both contribute to the improvement of society and to potentially be misapplied to the detriment of society and the environment. The RKI aimed to establish a code of conduct that would both preserve the freedom of its researchers while preventing the distribution of data and findings that could harm society or the environment. This code of conduct outlines basic principles for preventing and minimizing dual use risks, criteria for assessing the dual use potential of research, a process for evaluating the dual use potential of research projects, steps for assessing and managing risk, and guidance for developing awareness of the dual use problem at institutions. We have included this resource in the library to provide institutional officials with an example of an institutional code of conduct for minimizing risk in life science research.
The Robert Koch Institute (RKI) is a German federal government agency and research institute responsible for the investigation, monitoring, and prevention of infectious diseases. RKI is the largest public health institute in Germany and employs over 1000 people, including 450 scientists. The code of conduct is thus available in both English and German. No further updates to the code of conduct are anticipated at this time.