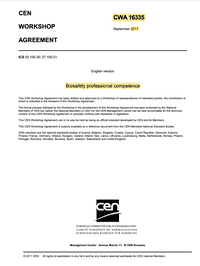 Download
Language: English
CEN Workshop Agreement: Biosafety professional competence
[CWA 16335]
European Committee for Standardization (CEN)
CWA 16335 is a guidance document for biosecurity professionals that builds directly on previous CWA guidance on laboratory biorisk (CWA 15793). It was designed to provide a framework for biosafety and biosecurity professionals to evaluate their competence and identify areas of improvement for their professional development.
SUMMARY
This CEN Workshop Agreement (CWA) was developed in response to identified biosecurity needs in the international community and addresses the broad range of competencies, abilities, and responsibilities of individuals working in biosecurity and biosafety. The document is intended to aid biosafety and biosecurity professionals in evaluating their competency in the field and identifying areas for improvement. This CWA may also be useful in the development of new programs or courses integrated into existing programs, although it is not intended to provide guidance on certifying or accrediting courses or programs.
The European Committee for Standardization (CEN) is a public standards organization that aims to foster the economy, global trading, environment, and public welfare of the European continent. CEN has hosted 84 workshops as of September 2021. These workshops address emerging or rapidly evolving technologies that require quickly developed specifications and research. The main outcome of a CEN workshop is a CEN Workshop Agreement, a voluntary agreement with international applicability. The CEN workshop that produced this document commenced in December 2009, and representatives of interested parties drafted and approved the workshop agreement in June 2011. The National Members of CEN have endorsed the process of developing workshop agreements but cannot be held accountable for the agreement's technical content. This workshop agreement is not an official, binding standard from the member organizations.