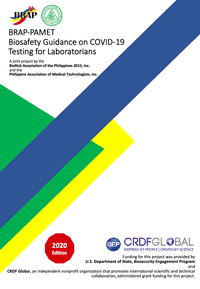 Download
Language: English
Biosafety Guidance on COVID-19 Testing for Laboratorians
[COVID-19 Testing for Laboratorians]
BioRisk Association of the Philippines 2015
This handbook is a comprehensive resource on the laboratory protocols and techniques required to safely handle COVID-19 specimens, guiding readers through all standard laboratory stages.
SUMMARY
The BioRisk Association of the Philippines 2015 (BRAP) and the Philippine Association of Medical Technologists (PAMET) developed this resource to introduce laboratory workers to the updated molecular biology techniques required to process COVID-19 specimens. Beginning in late March of 2020, BRAP and PAMET collated all available international standards, guidance documents, and guidelines from the WHO, CDC, Philippines Department of Health (DOH), DOH Research Institute for Tropical Medicine, and International Federation of Biosafety Associations. This guidance is intended to streamline these documents and create a single resource that makes it easy for laboratories to follow all necessary steps. The handbook is divided into five standard laboratory phases: pre-preanalytical, preanalytical, analytical, postanalytical and post-postanalytical, guiding users through all phases of handling COVID-19 specimens to follow standard protocol for testing while minimizing biosafety and biosecurity risks.
The BioRisk Association of the Philippines 2015 (BRAP) is a non-profit organization focused on biological risk management across professional medical, agricultural, technological, and biological sectors in the Philippines. The Philippine Association of Medical Technologists (PAMET) is a non-profit organization founded in 1963 and is affiliated with numerous other national and international professional organizations, including the Council of Professional Health Associations (COPHA), Philippine Federation of Professional Associations (PFPA), and ASEAN Association of Clinical Laboratory Sciences (AACLS). Funding for this project was provided by the U.S. Department of State's Biosecurity Engagement Program and administered by CRDF Global. This resource is available in English as a PDF.