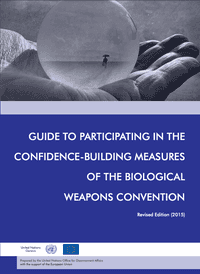 Languages: English, Spanish, French... (6)
Guide to Participating in the Confidence-Building Measures (CBMs) of the Biological Weapons Convention (BWC)
[BWC Confidence-Building Measures]
United Nations Office for Disarmament Affairs
In 1986, BWC agreed to introduce a series of "Confidence-Building Measures" (CBMs). These measures were implemented to clarify and improve international cooperation around biological activities. The UNODA prepared this guide that provides advice to officials responsible for preparing submissions for the CBMs of the BWC.
SUMMARY
The Second Review Conference in 1986 of the Biological Weapons Convention (BWC) agreed to introduce Confidence-Building Measures (CBMs) to prevent or reduce ambiguities, doubts, and suspicions amongst state parties and promote international cooperation in peaceful biological activities. The CBMs continued to be elaborated upon, modified, and expanded at future review conferences. The Seventh Review Conference in 2011 introduced revised reporting forms for the submission and distribution of the CBMs. While the CBMs are not mentioned in the text of the original BWC, all State Parties to the Convention are required to participate in the CBMs.
The "Guide to Participating in the Confidence-Building Measures of the Biological Weapons Convention" explains necessary background information, general advice, and detailed guidance on participating in the CBMs for the officials responsible for preparing submissions. The guide has no formal status and is not meant to place additional obligations on the States Parties. However, it can serve as a practical aid for those officials. It was mentioned in reference to the need for plain-language guides for policy-makers and officials in the Department of Foreign Affairs.