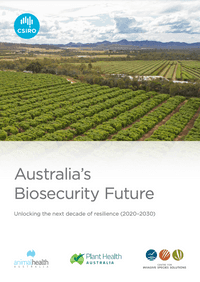 Download
Language: English
Australia's Biosecurity Future
[Australia's Biosecurity Future]
Commonwealth Scientific and Industrial Research Organisation (CSIRO)
This report describes actions needed to create an ideal future for biosecurity in 2030 and follows a similar 2014 report that highlighted forthcoming biosecurity trends and challenges. The goal of the report is to provoke new considerations around Australia's expansive biosecurity system.
SUMMARY
The report describes an ideal 2030 future state of biosecurity in Australia and actions needed in the agricultural, environmental, and marine sectors to reach that state. This report was published by Australia's Commonwealth Scientific and Industrial Research Organisation (CSIRO), the Australian government agency responsible for scientific research. It follows a 2014 publication which identified major biosecurity trends and shocks in Australia's biosecurity landscape. That 2014 publication was aimed at the same sectors and is publicly available as well.
This resource was included in part to highlight the work of CSIRO and other Australian biosecurity organizations. CSIRO includes several facilities, including the Australian Centre for Disease Preparedness (ACDP), a world class animal health facility. The ACDP is currently developing new tools for biosecurity education that may be included in this library in the future. Until then, we included this document to highlight existing resources from the Australian groups. While the key recommendations and observations are tailored to an Australian audience and Australia's unique biosecurity environment, some of the discussion may help inform the national biosecurity agenda of other nations.