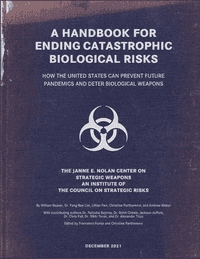 Download
Language: English
A Handbook for Ending Catastrophic Biological Risks: How the United States Can Deter Biological Weapons and Prevent Future Pandemics
[A Handbook for Ending Catastrophic Biological Risks]
Council on Strategic Risks
This handbook outlines a plan for improving US national strategy on addressing catastrophic biological risks that have mass casualty potential.
SUMMARY
The Handbook for Ending Catastrophic Biological Risks: How the United States Can Deter Biological Weapons and Prevent Future Pandemics is a deep-dive on how much damage could be from the intentional release of a biological weapon and what can be done to mitigate this incredible risk, while simultaneously preventing future pandemics. The handbook calls for the US to effectively eliminate biological weapons through robust deterrence by investing in significantly enhanced preparedness and response capacities. The handbook gives an overview of biological threats, sets a high level vision for addressing the threats, outlines which agencies should be involved in implementing the strategy, and recommends a 10 year budget for achieving these goals. 
The handbook was published by the Council on Strategic Risks in response to the COVID-19 pandemic. The Council on Strategic Risks (CSR) was formed in 2017, and it's mission is to analyze, anticipate, and address systemic threats to international security, with biological threats playing a central role in the organization's work. This handbook was published under the CSR program to make bioweapons obsolete, a multi-year initiative to promote a shift to bolder and more ambitious U.S. strategies and policies for addressing biological threats. The handbook is published in English and is available for download on CSR's website.